EDIsecure® XID 9300 Retransfer Printer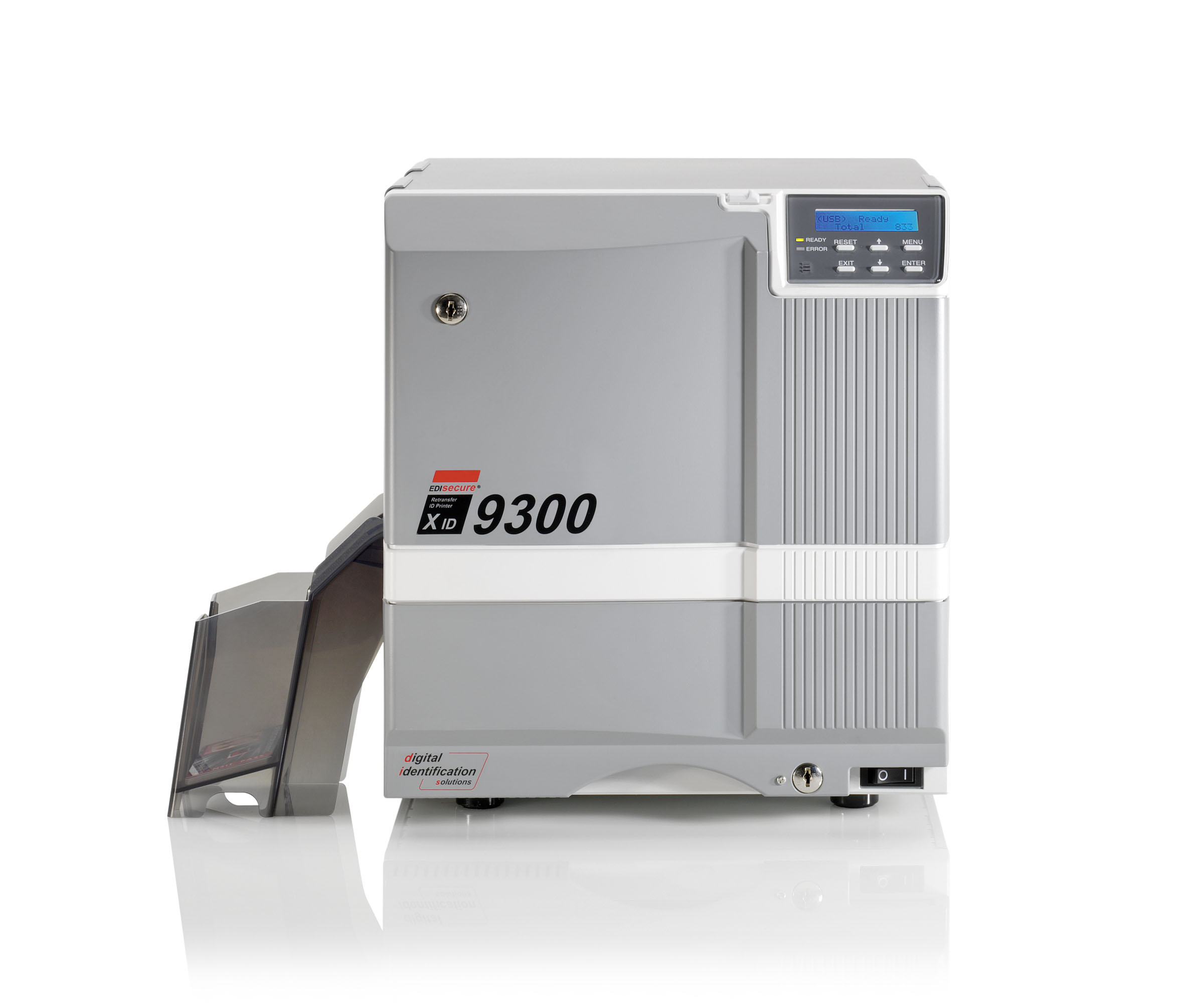 The EDIsecure 9300 dual-sided ID card printer is ideal for organizations that require secure ID and smart cards with a high volume output. Durable and vertatile, the EDIsecure XID 9300 produces over-the-edge print results on several types of card materials, even on the uneven surface of smart cards. It can also print with non-PVC long lasting cards such as ABS, PET and polycarbonate ID cards. Government agencies, laboratories, and international corporations will appreciate the standard security locks and diverse security features that allow for a highly secure and high volume operation.
Product Features
Operate and maintain your printer with ease
To ensure smooth operation and printer care, the EDIsecure XID9300 is equipped with a number of user-friendly features.Its rugged, industrial design and compact shape allows for heavy-duty use in a relatively small area. The heavy-duty ART retransfer film helps increase the life and durability of your ID cards. The LCD panel provides low ribbon warnings, cleaning notifications, automatic ribbon detection, and more!


Take advantage of high quality reverse transfer technology
The EDIsecure XID9300 uses reverse transfer printing technology which delivers excellent print quality, true over-the-edge printing, and enhanced wear protection.


Secure your card printing program
The XID9300 card printer includes several features to ensure your ID application and supplies are safe, inlcuding: dye-sublimation UV ink ribbon for invisible security printing and mechanical locks to help prevent unauthorized access.
Customize your printer to your needs with:
Card encoding - Optional
The XID 9300 printer is capable of handling several encoding options. Optional magnetic stripe and smart card encoding along with the advanced chip encoding framework (Advanced CEF) allows for encoding independent of your ID application and provides the integration of multiple encoding technologies through an easy-to-use plug-in tool.


Lamination - Optional
Field-installable lamination units can be added in minutes for either single-sided lamination or dual-sided lamination for added security and card durability.


Extended warranty plans - Optional
ID Zone offers extended warranty plans with satisfaction-guaranteed service handled by our in-house, knowledgeable technical support team. Our extended warranty plans include support via a toll-free number or live chat, total parts replacement plus labor, and fast turn-around on printer repairs.


Card printer training - Optional
A training session with our in-house Technical Support team will get your new EDIsecure XID 9300 card printer up and running in no time. Your training will be tailored around your specific printer and the specific topics you would like assistance with. A typical printer training session may cover topics such as:

Card printer installation assistance
A review of the printer's user interface
How to load the ribbon and cards
Special printer features



Need higher output?
The XID 9330 retransfer ID printer offers faster print speeds of up to 4.3 seconds per card.
EDIsecure XID 9300 Dual-Sided ID Card Printer Specifications

Card Printing Capability:
Single-sided or dual-sided printing
Color/Monochrome Printing Capability:
Color & monochrome printing
Card Printing Speeds:
30 seconds per single-sided full-color (YMCK) card
Card Hopper Capacity:
300-card input hopper
100-card output hopper
Accepted Card Size:
CR80 - standard PVC or PET (CR80 is the size of a standard credit card)
Accepted Card Thickness:
10-80 mil - without encoder
10-55 mil - with encoder
Interface:
USB & Ethernet
Available Software Drivers:
Microsoft® Windows® 2000, XP, Vista - 32- & 64-bit, & Windows 7 - 32- & 64-bit
Weight & Dimensions:
48.5 lbs (22 kg), 13.5'' x 15'' x 13.7'' (343mm x 381mm x 348mm)
Included with Printer:

2 year (all parts & labor) printer and lifetime printhead warranty - with the use of EDIsecure materials
USB cable
Power cable
Microsoft Windows drivers
User manual
Empty ribbon cartridge - ribbon not included
Empty retransfer film cartridge - film not included

Printer Options:
Encoding -

Magnetic stripe - ISO 7811 or JIS2
Contact/contactless chip encoding - MIFARE, DESFire, HID iClass, Legic, etc.
Chip encoder plug-ins for Advanced CEF
CSM 2 Credential Scanning Module
LaserCard encoding

DIH10471 100-card lockable output hopper
DIH10476 XID 93xx printer field upgrade enabler kit - requires DIK10477 for every printer to be upgraded
Field-upgradeable lamination (Inline Lamination Unit)
Extended warranties through ID Zone with option to add loaner coverage to manufacturer warranty

EDIsecure XID 9300 Retransfer Card Printer Models

Part Number

USB/Ethernet Interface

Magnetic Encoding

Contact Chip Station

Contactless Encoder

DIK10465

DIK10466

DIK10467
DOCUMENTS

Brochure

EDIsecure DIK10465 User Manual
DRIVERS

XID 9300 Firmware and Drivers
---
Povežite se sa nama i dobicete sveobuhvatne informacije i punu saradnju za proizvode koji vas zanimaju. Uvek se možete osloniti na nas za savet o Vašim projektima. Pozovite nas: +381 11 33 44 862 ili na sales@kartica.rs